Low temperatures, harsh rain, muddy surfaces, and even snow can leave your mobility scooter looking and feeling a little worse for wear after winter is over. To make sure it runs as it should when the weather warms up its important to give it a post-winter service. Nothing too technical, just basic things you can do to get it in shape.
A Thorough Post-Winter Scrub Down
As you may have guessed the most basic thing to do in your post-winter service is to give your mobility scooter a good clean. Whether you've been using it and its covered in muck, or its been sitting in the garage and has gotten dusty, cleaning will do it a lot of good. Obviously, it will look more presentable, but there are functional benefits too. By cleaning off any metal parts it will reduce the chance of any corrosion being caused by the moisture in the dirt, much like washing a car will help prevent rust.
If you're scooter has not been stored in a sheltered area be sure to check for any serious signs of corrosion. If parts fail because of this it can result in a serious accident. If something does look serious get a professional opinion from the retailer you bought it from or the supplier, as they can advise you on its safety. If there is no corrosion make sure you shelter it next winter so you don't have any nasty surprises on your next post-winter service.
Check the Battery for Post-Winter Wear
Another important area to check on your mobility scooter post-winter is the battery. If you have a removable battery and you've been storing it in your house away from the scooter there is less likely to be issues. Just make sure its charged, connect it up, and make sure it switches on. The only thing you really need to check is that there is no moisture or material obstructing the connections on the scooter.
However, if your battery has spent a lot of time in a garage that is moist and can drop in temperature frequently, you may need to be more thorough with your checks. This is because extreme temperatures can cause the battery to expire prematurely. In this situation you should plug your scooter in to charge in a dry area, if nothing happens you may have to replace your battery. Furthermore, it may charge but not last as long as it used to. You can also ask for advice from the retailer you bought it from about repairs and replacements as you may be covered by a warranty.
Check Functionality and Damage
You s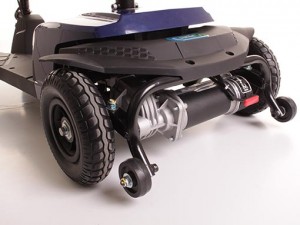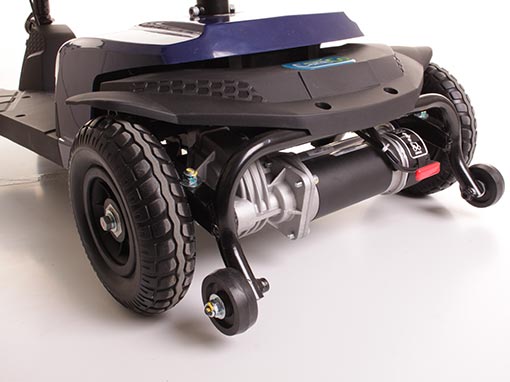 hould also remember to check the overall functionality and condition of your mobility scooter during the post-winter service. Making sure that the tiller turns unobstructed, the wheels are in good condition, and any folding or detachable parts work correctly. This will prevent you having any nasty surprises at a crucial moment. Finding out that you can't turn as sharply as you need to or the scooter doesn't ride straight and true isn't something you want to happen when it's already moving. Additionally, if you see any serious damage or have seriously affected functionality then get expert advice on how to proceed.